Career Opportunities
GREAT MARKETING PLANS + GREAT PRODUCTS + FREE LEADS + EXCELLENT TRAINING = SUCCESS!
WORK FROM ANYWHERE!!!
If you are seeking a career change and a chance to realize unlimited earning potential based on your drive and initiative, then join our Broker Community. With 100% independence you own the business. Not only do we provide best companies with top commissions (with no production requirements) but we also give you the resources and trainings to be successful. If you are interested in growing your agency and maximizing your financial efforts we offer effective, time saving recruiting and contracting systems to quickly process new agents into your hierarchy. We are expanding rapidly and looking to add motivated, high quality leaders to our nationally recognized team of Agents, GAs and MGAs.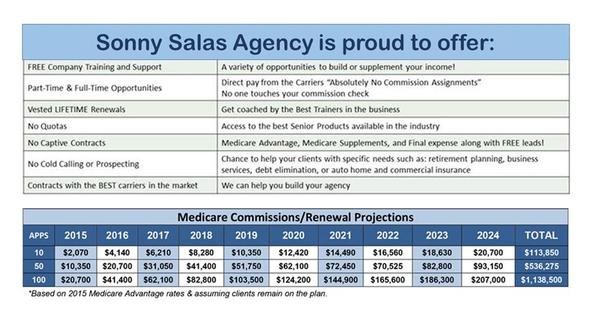 If you enroll two Medicare beneficiaries every week for the next 10 years, you will make $1,000,000 in commissions and renewals.

The facts are 10,000 people turn 65 EVERY DAY! Original Medicare does not cover all of a senior's insurance needs. We need health insurance agents to educate and enroll these seniors.

The facts are EVERYONE needs health insurance! We need health insurance agents to educate and enroll eligible clients into the Affordable Care Act (Obamacare) plan that best fits their needs.
To apply please email rosie@sonnysalasagency.com or call Rosie Salas at 979-240-3183.